It was great fun writing Confessions of a Lighthouse Keeper.
As the blurb says 'It's a memoir that's more than an insider's account of a mid-eighties Australian independent band. Confessions of a Lighthouse Keeper provides multiple insights into the broader music and entertainment world—in a country that has mixed feelings about the arts. It's atmospheric, light and full of musings from others who have travelled this road over the last fifty years. The Lighthouse Keepers are sentimental favourites among the generation who came of age in the inner cities of Sydney, Melbourne—and even Canberra and Perth—during the 1980s.'
It features personal interviews, diary entries, and writing contributions from other witnesses—interviews include: Lindy Morrison, the Go-Betweens; James Cruickshank, Widdershins, Cruel Sea;Rob Mccomb, the Triffids; Murray Cook, the Wiggles; John Paul Young, legendary Australian popstar and reigning King of Pop; Steve Kilbey, the Church; Ken Gormly, Cruel Sea; Clinton Walker, writer; David Nichols, writer/academic; Juliet Ward, the Lighthouse Keepers; Sarah Macdonald, journalist/broadcaster… with a foreword by Tanya Plibersek, Australian LaborParty, Member of Parliament.
The critics rave!
'Greg Appel has written a beautiful, insightful—and at times poignant—memoir of music, people, times and places. Confessions Of A LighthouseKeeper is about a band, of course—but it's about so muchmore. It's about youth, aspirations, turmoil and craziness. It's aboutgrowing up and being creative in Australia during the 1980s. This is a book about—to paraphrase Leonard Cohen—wild-eyed kids with a head full of dreams. Enter their world and go with the flow—just like they did.'
Stuart Coupe, Petersham, July 2020
'With humour and frankness that sometimes feels quite brutal, Appel's book stumbles into a story of people making music because they could, on little money and not necessarily great ambition, just the sense that doing this answered a need they might not even be able to articulate.'
Bernard Zuel, Sydney Morning Herald, September 2020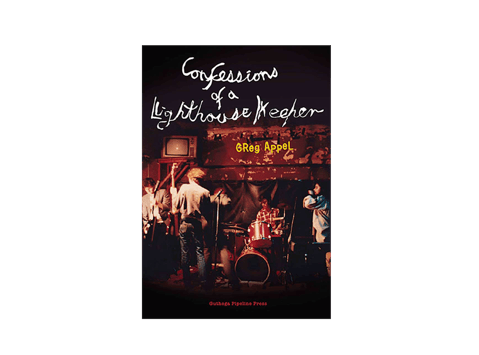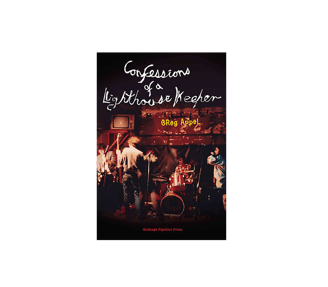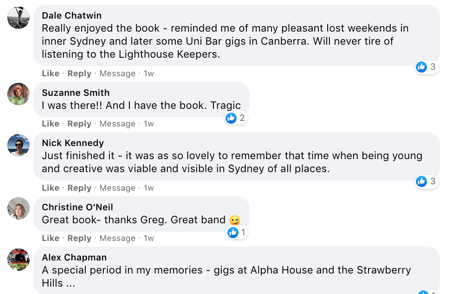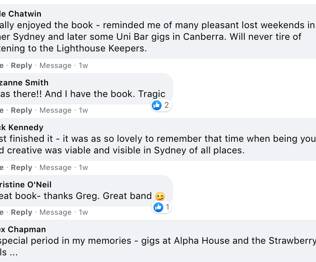 You can also email me via the form below and arrange to buy books
and there's another book that kind of goes with the podcast Drivetime. This road guide/memoir is also a companion to Confessions of a Lighthouse Keeper, available here and other places online